This year Bosnia and Herzegovina is anticipating the largest number of air passengers ever going through its airports. New airlines are announcing flights to the country and existing ones are increasing capacity to all four airports in Bosnia and Herzegovina.
_________________________________________________________________________________
Sarajevo International Airport
Sarajevo airport overview, photo by Fahrudin Krestalica
Sarajevo airport is welcoming Swiss International Airlines with two weekly flights from Geneva to Sarajevo starting April 4

th

and three weekly flights from Zurich to Sarajevo starting May 1

st

.Both routes will be served with Avro RJ-100 which has seating for 97 passengers. Sarajevo airport will also benefit from arrival of Flydubai with two weekly flights to Dubai on board of Boeing 737-800 with 174 seats. So far, flights to Dubai have a great load factor, of 70-80% average. Turkish Airlines will maintain 18 weekly flights between Istanbul and Sarajevo using Boeing 737-800 and Airbus 321 with capacity of 180 seats. Pegasus Airlines will increase flights form Istanbul Sabiha Gokcen Airport to Sarajevo to daily with Boeing 737-800 and Airbus 320 both featuring 180 seats. Air Serbia will be using Airbus 319 on most of its flights from/to Belgrade instead of much smaller ATR-72. Lufthansa will be using Airbus 320 with a capacity of 168 seats, beginning with a summer timetable. Usage of larger aircraft, by airlines flying to Sarajevo, will provide solid passenger growth this year. The airport is planning to handle

800.000

passengers this year and with that number terminal building is reaching its capacity. Plans are underway to increase arrival area of the airport. In the near future enlargement of main terminal building is planed which will increase terminal capacity to 2 million passengers per year.
_________________________________________________________________________________
Tuzla International Airport
Tuzla airport overview airport, photo by Kontrolaletenja
As previously announced by Wizzair, Tuzla airport will become one of 19 Wizzair bases in Europe. Wizzair will base one Airbus 320 at the airport, with 3 daily rotations(3 departures and 3 arrivals). New destinations from Tuzla are:
| | | |
| --- | --- | --- |
| Tuzla to Munich Memmingen | | |
| Tuzla to Stockholm Skavsta | | |
| | | |
| Tuzla to Oslo Sandefjord Torp | | |
Wizzair will have 21 weekly flights from and to Tuzla to 9 European destinations. Charter flights to Antalya will start on June 9

th

and serve the airport once weekly, every Tuesday with an Airbus 320 by Free Bird Airlines. Tuzla Airport is expecting another record year with

250.000

passengers planned to use airport this year.
_________________________________________________________________________________
Mostar International Airport
Mostar airport overview, photo by Mostar Airport Ltd.
Mostar will see great amount of charters to Italy this year again. Mistral air with its partners will offer flights to Rome, Napoli, Bari, Bologna, Catania and many more smaller airport through Italy.
BH Airlines has signed a contract to carry charter flights to Italy as well, but all these flights are in jeopardy due to the uncertain future of the airline.
For the first time, Mostar will be connected with direct flights to Scandinavia. Swedish tour operator Scandjet will connect Goteborg and Mostar with 17round trip flights this summer season, offering tourist from Sweden a great connection to Mostar, whole Herzegovina and Adriatic coast. Mostar airport is expecting to handle

80.000

passengers this year.
Flights timetable Goteborg-Mostar-Goeteborg: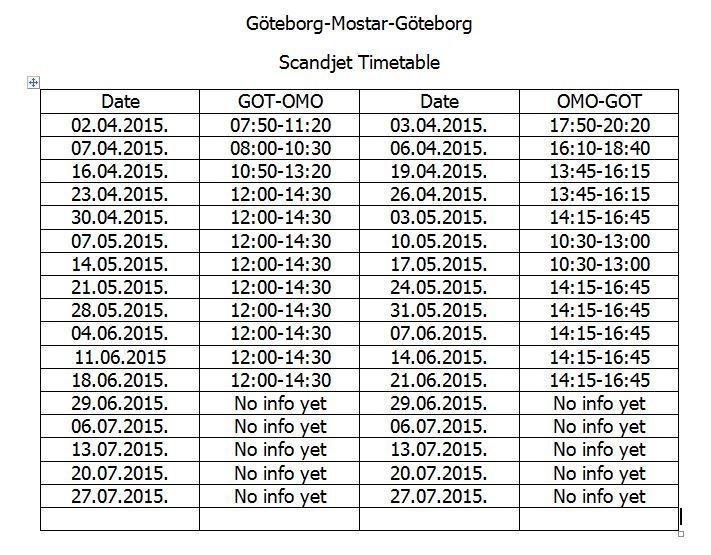 _________________________________________________________________________________
Banja Luka International Airport
Banja Luka airport is not expecting any new airlines this year. Air Serbia will continue to serve the airport with one daily flight to Belgrade (9 flights per week will be offered during peak summer months).Flights to Zurich are uncertain due to BH Airlines' instability. Late last year Swiss Air Lines announced flights from Zurich to Banja Luka on seasonal basis with first flight commencing in June of 2015, but decided to cancel them just after two months. The cancellation was due to very low bookings. In 2014, BH Airlines had about 6.000 passengers traveling between Banja Luka and Zurich and about 1000 passengers on charter flights from Banja Luka to Tivat in Montenegro. Banja Luka airport is in desperate need of proper management with the capability and knowledge to negotiate and bring a low-cost airline to serve the city. Wizzair has expressed interest to serve the airport, but due to lack of interest from Banja Luka airport officials, flights were never materialized. Banja Luka airport should handle around

30.000

passengers this year.
_________________________________________________________________________________
My projection for passenger increase at airports in Bosnia-Herzegovina for 2015
| | | |
| --- | --- | --- |
| | | 2015 passengers projected |
| | | |
| | | |
| | | |
| | | |
| | | |